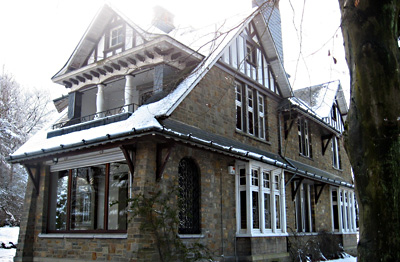 EDITORIAL
Occasions to celebrate our 10th anniversary…
In this year 2009, Aqualis celebrates its 10th anniversary…
Our websites´ actualisations (and multiplications by 3) was its first consecration on January the 1st , 2009.
Many other projects currently are in preparation. They promise to be festive, promotional and even intellectual. Nothing more is to be revealed yet. In the comings weeks, these projects will be progressively disclosed.
Aqualis however reached a second step in order to mark our 10 year´s existence with dignity.
On February the 14th, Valentine´s Day – a symbol in itself – our team indeed set itself in brand new rooms our company just acquired in the border of the Spa forest.
The investment is important, but it was worth to. This venerable building is more than a place to work.
What more could an actor charged of the tourist promotion of the Ardenne bleue dream of than one of these old typical villas of the Spa region.
From our windows, we can see the new thermal building and the lifts which climb and reach the Annette et Lubin hill. Even the half–timbering are in… All this, just five minutes from the heart of the city.
Soon enough, the full renovation of the park will complete the work. Then, we´ll welcome you with even more pleasure.
Have a good read!
Jean-Paul MAWET
Director